A marzo 2020 un nuovo studio europeo, dal titolo "What is the European Dream?"  ha indagato di nuovo i cittadini europei sul tema del reddito di base universale ed incondizionato. La FEPS (Fondazione per gli studi progressivi europei) ha pubblicato i risultati, ed  all'interno del Report, (più esattamente da Pag.66) vengono riportati i dati raccolti.
I cittadini intervistati di Austria, Belgio, Danimarca, Finlandia, Francia, Germania, Grecia, Repubblica d'Irlanda, Italia, Lussemburgo, Paesi Bassi, Portogallo, Spagna, Svezia, sostengono l'idea del reddito di base universale ed incondizionato. Si dicono pienamente d'accordo il 24%, e si dicono d'accordo il 22%, portando cosi il totale dei favorevoli al reddito di base il 46% degli intervistati di questi paesi. Coloro che sono completamente contrari sono il 15%, e piuttosto contrari il 14%, e rappresentano il 29% del campione totale.
Il sostegno alla proposta del reddito di base è più elevato in Germania (62%) e più basso in Portogallo (35%). Il 25% degli intervistati non ha un'opinione ne sentimenti contrastanti nei confronti del reddito universale. La domanda, in merito alla "definizione" del reddito di  base, era ben specificata nella dicitura: Siete d'accordo o meno sul fatto che ogni cittadino, compresi quelli che lavorano, dovrebbe ricevere un reddito garantito dallo Stato?  Hanno così risposto:
Do you agree or disagree that each citizen, including those in work, should receive a guaranteed income from the state without work requirement? (EU14)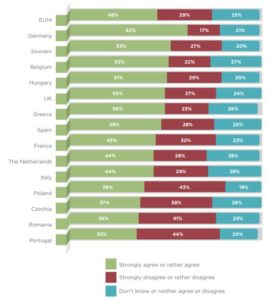 Per leggere il rapporto completo, cliccare qui. La sezione sul reddito di base inizia a pagina 66.