E' uscita, in formato ebook, una nuova pubblicazione sul reddito di base. A cura di Philippe Van Parijs ed edito da Social Europe Edition, è un libro collettaneo in cui si ritrovano numerosi autori internazionali: dallo stesso Philippe Van Parijs a Guy Standing, da Robin Wilson a Louise Haagh e Malcolm Torry ed altri ancora.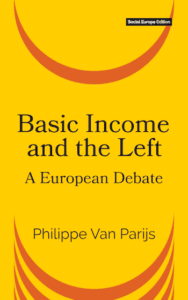 Il libro si può acquistare in ebook, ed è in lingua inglese.
Dalla presentazione del libro:
Il reddito di base incondizionato (UBI) è una delle idee più dibattute degli ultimi anni a sinistra – e, in effetti, anche a destra. La potenziale minaccia a milioni di posti di lavoro, posta dalla robotizzazione e dall'intelligenza artificiale, combinata con l'aumento della disuguaglianza ha contribuito a rendere questa proposta un elemento centrale del dibattito post-crisi su cosa significa essere di sinistra o socialdemocratici, sia oggi che in futuro. È il reddito di base incondizionato compatibile con la giustizia sociale? Apre lo spazio per la fine del lavoro degradante e per la ripresa del lavoro volontario e della vita sociale e culturale? È conveniente economicamente? Questa raccolta di saggi brevi ma avvincenti, tutti precedentemente pubblicati in Social Europe, consente sia ai sostenitori che agli avversari di presentare le loro tesi ed è stato pensato per ampliare questo dibattito.
Il titolo originale dell'opera è "Basic Income And The Left: A European Debate" e cliccando al link che segue sotto si può leggere il sommario del volume.
Per maggiori informazioni clicca qui