Il co-fondatore della rete mondiale per il reddito (BIEN) Guy Standing, nonchè socio onorario del BIN Italia, ha dato alle stampe una nuova pubblicazione sul reddito base dal titolo (in inglese): "Basic income: and how We Can Make it Happen". Il libro è stato pubblicato da Pelican Books. Come l'editore riporta sul libro: "Guy Standing è stato all'avanguardia nel pensiero sul reddito di base negli ultimi trent'anni e in questo libro affronta in dettaglio gli effetti sull'economia, sulla povertà, sul lavoro etc.  Spiega cosa possiamo imparare dai progetti pilota e dalle sperimentazioni che sono in corso in tutto il mondo e illustra perché un reddito di base è ormai diventato un tema cosi urgente e necessario ".
Commentando l'ultimo libro di Standing, il giornalista Paul Mason afferma: "Guy Standing ha ispirato la nostra comprensione del reddito base, non solo del concetto, ma delle sfide che è destinato a soddisfare: la rapida automazione e l'emergere di una forza lavoro sempre più precaria. Mentre ci avviamo in un'epoca in cui il lavoro e il tempo libero diventano sfocati l'analisi di Standing è vitale ".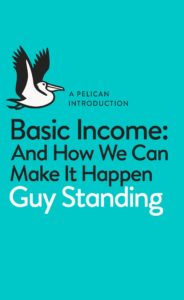 Il titolo in italiano potrebbe essere cosi tradotto: "Il reddito di base: e come possiamo fare perchè accada" è stato presentato alla London School of Economics (LSE) l'8 maggio 2017.